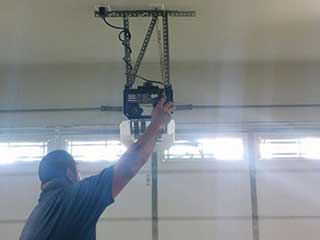 It's a general rule of thumb that things can and usually do go wrong when you are running late. Maybe it's Murphy's Law, or maybe it's just the universe that loves toying with people in a rush. It happens to all of us from time to time. But what happens when you finally sit in your car to make the mad dash to work and your garage door starts acting up? Hopefully it's only a minor thing, but sometimes you may have a major problem on your hand.
The Remote Doesn't Work

So there you are, sitting in your car with your travel mug beside you so you can at least get your caffeine hit while you commute. You keep pushing the remote but your door simply isn't budging. Take a deep breath and calmly try opening the door with the remote once more. If your door still won't open, try opening the door from the wall panel. If this way works, then the batteries of your remote probably died and all you need to do is change them. If the door won't open when you use the wall panel, then you probably have a more serious issue with the power source of some of the interior electrical components. In either case, opener repair will probably be required. Let our team know and we'll see to it that the problem gest resolved as quickly as possible.

What's That Terrible Sound?

If your garage door makes horrible noises as it opens and closes you could have a serious problem on your hands. A noisy door is usually the result of worn or damaged springs, however, if you have a chain drive opener its chain could be the main cause of this ruckus. A screw drive model can also cause an awful grinding sound. Both types can benefit from being lubricated, which will also reduce their noise output. The drive gears can also be treated this way. If the issue persists, you'll probably need our experts to take a look.

The Door Keeps Reversing

Perhaps one of the most common issue that can inflict your opener. If your door goes back up each time you try to close it, odds are the safety sensors have become misaligned. These photo eyes detect obstacles, so if they become blocked by something or lose their alignment they may cause the opener to "think" there's something or someone under your door while there's nothing actually there. Our team at Garage Door Repair Fleming Island can carefully realign these units and make sure that your door stays safe to use. Give us a call if you're dealing with any of the aforementioned problems or with any other ones.