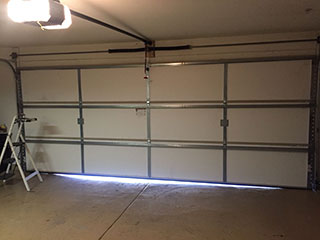 Most homeowners have a regular checklist when it comes to keeping their homes in tip-top shape. Your garage door should always feature on this list due to its complex design. Performing alittle maintenance on your door even only a couple of times a year will go a long way in getting the most out of you're the system.
Use Your Eyes And Ears

At least once a month, you should open and close your garage door while paying close attention to the sound and pattern of its movement. This is one of the easiest ways to detect problems early on. If you see your door opening and closing slower than usual or if you hear it making strange noises, you need to ensure one of our experts gives it a more thorough inspection. Catching minor issues before they become big is the key to preventing a lot of major problems.

Check The Hardware

Most garage door systems get a lot of daily usage. The average family will open and close their door over a thousand times in a single year. All that movement involves a lot of tension and wear and tear and it can shake a few screws and bolts loose eventually. Every so often, take a couple of minutes and tighten these tiny fasteners. Failure to do so could force you to have to spend more money on preventable repairs.

Inspect Your Entire System

Every month or so, it's a good idea to give your garage door a close visual inspection. Check things like the springs, tracks and rollers for signs of wear and tear. Even if everything looks fine, it is recommended that you lubricate these components so your door opens and closes more smoothly.

Are Your Safety Features working?

Your family's safety is always the highest priority, which is why you should regularly check your opener's photo eye sensors to ensure your door will stop its descent if someone passes under it unexpectedly. Do this by waving a broomstick in front of the sensors while the door is closing. You should also make sure your door stops and goes back up if it encounters an obstacle in its path. To do this, place a cardboard box or a 2X4 under the door and order it to close. It should reverse as soon as the lowest panel touches the object.

Schedule An Annual Check-Up

Just like you take your car to a mechanic once or twice a year for a full safety check, you should also schedule a full maintenance inspection of your garage door and all its components. While you can do a lot of the inspecting yourself, it's also a good idea to arrange for a full professional examination to be sure that nothing is left to chance. Contact our team at Garage Door Repair Fleming Island to get help from our experts.